FEATURING HENRY BUTLER, STEVEN BERNSTEIN & THE HOT 9
HOSTED BY BUSTER POINDEXTER
FEATURING
MADELEINE PEYROUX • RAUL MIDON • MERCURY REV • HAL WILLNER • CAROLE BUFFORD • BASYA SCHECHTER • TERRY REID • LEE FIELDS
The Town Hall is hosting a food drive in partnership with City Harvest. See below for details.
Town Hall's annual variety show celebrates the many voices of NYC's holiday season, with style and swing. Butler, Bernstein & the Hot 9, alongside host Buster Poindexter, ring in the holiday season with a swingin' program of New York and New Orleans tunes old and new, featuring all-star guest musical appearances and readings by New York personalities.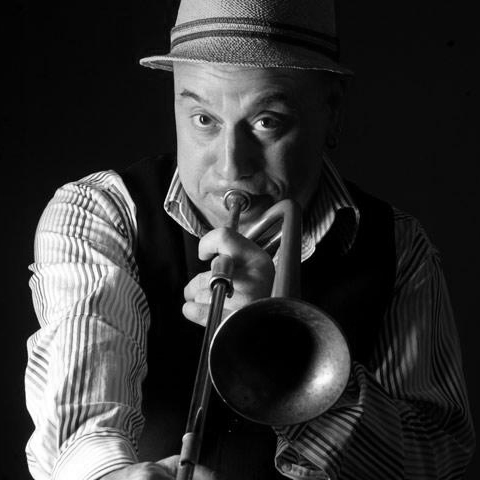 BUTLER, BERNSTEIN, & THE HOT 9 is an artistic collaboration destined to happen. Ever since New Orleans singer and pianist Henry Butler settled in Brooklyn, it was only a matter of time before the gifted pianist and vocalist hooked up with retro-futurist trumpeter and bandleader Steven Bernstein. Blind since birth, master musician, pianist and vocalist Henry Butler tells stories through the rise, swing, and rumble of his fingers as they channel sounds as diverse as his Louisiana birthplace: jazz, Caribbean, classical, pop, blues and R&B, among others. The combination of trumpeter/maestro Steven Bernstein and the fiery unit he calls the Hot 9, use a traditional New Orleans palate as their launching point; exploring everything from early 20th century blues to thoughtful and exhilarating improvisations on the Crescent City canon.
STEVEN BERNSTEIN is a trumpeter, bandleader, arranger, and composer who lives outside of musical convention. Bernstein was the musical director for I'm Your Man, a documentary on Leonard Cohen released by Lions Gate films. He was the musical director for the Bill Withers documentary Still Bill. He wrote horn arrangements for Levon Helm's Grammy winning 2009 recording Electric Dirt and 2011's Ramble at the Ryman, as well as Bill Frissel's Grammy winning 2004 recording Unspeakable. Other arranging credits include Lou Reed, Rufus Wainwright, Marianne Faithfull, Elton John, and Marvin Pontiac. Bernstein has played trumpet with a diverse group of artists including My Morning Jacket, Linda Ronstadt, and Sting.
HENRY BUTER is a ten-time Pinetop Perkins Best Blues Instrumentalist Award nominee. A rich amalgam of jazz, Caribbean, classical, pop, blues, and R&B, his music is as excitingly eclectic as that of his New Orleans birthplace. He has played almost every major club and festival in the United States, as well as venues across four other continents. For over forty years, he has conducted workshops, clinics, and master classes throughout the country; he also developed a camp for blind and visually impaired teen musicians. Blinded by glaucoma at birth, Butler has been playing the piano since he was six years old, and arranging, composing, and performing professionally since he was twelve.
MADELEINE PEYROUX, whose voice has often been compared to that of Billie Holiday's, was discovered in her early twenties as a musician on the streets of Paris. Peyroux's most recent recording project, 2013's The Blue Room (Decca), found the singer-songwriter teaming up with Larry Klein, and paying homage to Ray Charles' classic 1962 LP, Modern Sounds in Country Western Music. Covering a handful of Charles' songs from the album, and adding such fitting tracks as Randy Newman's "Guilty" and Warren Zevon's "Desperadoes Under the Eaves," Peyroux melded multiple genres, creating an album that floated in the ether between jazz, country, blues and pop.
BUSTER POINDEXTER (aka David Johansen) first attracted attention as a glam rock pioneer (in the New York Dolls, with whom he still tours) and then as an early MTV idol (with "Hot Hot Hot"). Yet with his big, deep, resonant voice, Buster Poindexter is most impressive as a crooner and occasional belter of ballads in the classic R&B tradition. His ongoing run affirms that however you know him, the artist known as Buster Poindexter, complete with his one-liners, comic monologues (and signature pompadour), is one of the most endearing and enduring entertainers currently treading the boards in New York.
TERRY REID is without doubt one of the greatest rock/soul voices this country has ever produced or is indeed likely to. A Terry Reid concert should be a cherished memory for any self-respecting fan of the greats of British music. Terry turned down the front man's job with Led Zeppelin, recommending his mate Robert Plant instead. Aretha Franklin's stated that The Beatles, Rolling Stones and Terry Reid were the best England had to offer in 1968. He underwent two World Tours with The Rolling Stones, US tours with Cream, UK tours with Jethro Tull and Fleetwood Mac, The Isle of White Festival in 1969 and Glastonbury in 1970, played at Mick Jagger's wedding. More recently, Terry's been working with up and coming French band Shine and The Alabama 3.
RAUL MIDON has earned renown as one of music's most distinctive and searching voices. He is "a one-man band who turns a guitar into an orchestra and his voice into a chorus," according to The New York Times. Midón has collaborated with such heroes as Herbie Hancock and Stevie Wonder, along with contributing to recordings by Jason Mraz, Queen Latifah and Snoop Dogg and the soundtrack to Spike Lee's She Hate Me. The New Mexico native, blind since birth, has released seven albums since 1999.
CAROLE J. BUFFORD has become one of the most sought after young performers in the New York cabaret & jazz scene. Her recent shows, "speak easy." (featuring the Grammy Award-winning Vince Giordano & The Nighthawks) and "Body & Soul" earned her rave reviews across the board, including The New York Times and The Wall Street Journal. Carole is the recipient of a Nightlife, Bistro and BroadwayWorld Award for Outstanding Vocalist. She has traveled all over the US (The Colony's Royal Room- Palm Beach; Venetian Room- Dallas; Cabaret 313- Detroit; Broadway By The Bay- San Mateo; Upright Cabaret- L.A.) and recently made her London Debut to great critical acclaim.
HAL WILLNER is among the most eclectic and original producers in contemporary music, helming a series of wildly ambitious concept albums and live shows which tapped the talents of artists running the gamut from pop to jazz to the avant-garde. He first earned notice in 1981 with Amarcord Nino Rota, a tribute to the legendary composer best known for his collaborations with filmmaker Federico Fellini.That same year, Willner signed on as the music supervisor for the long-running NBC sketch-comedy series Saturday Night Live, a position he still holds.
BASYA SCHECHTER leads her band, Pharaoh's Daughter, through swirling Hasidic chants, Mizrachi and Sephardi folk-rock, and spiritual stylings filtered through percussion, flute, strings and electronica, Blending a psychedelic sensibility and a pan-Mediterranean sensuality, blending a psychedelic sensibility and a pan-Mediterranean sensuality. Her sound has been cultivated by her Hasidic music background and a series of trips to the Middle East, Africa, Israel, Egypt, Central Africa, Turkey, Kurdistan and Greece.
MERCURY REV first formed in the late 1980s in Buffalo, NY as a psychedelic rock group. After a period of change and reflection that saw the band pursuing experimental projects such as performances of Mercury Rev's Cinematic Sound Tettix BrainWave Concerto Experiment at John Zorn's New York City venue The Stone and headlining the 2014 Green Man festival with a performance of Deserter's Songs, the band returned with new music in 2015. Two years on, The Light in You more than lives up to its billing.
Since the late sixties, LEE FIELDS has amassed a prolific catalog of albums and has toured and played with such legends as Kool and the Gang, Darrell Banks, and Little Royal. With a career spanning 43 years, releases on twelve different record labels, and having toured the world over with his raucous-yet-tender voice, it's mind-blowing that the music he's making today is the best of his career. While drawing comparisons to groups like The Moments, The Delfonics, The Stylistics, and--of course--James Brown, Fields has been able to create a space of his own due to his desire to interpret and further the formulas of good soul music rather then parrot and imitate them.
The Town Hall is hosting a food drive in partnership with City Harvest. Their organization delivers food to nearly 500 emergency food programs including soup kitchens, food pantries, homeless shelters, AIDS care providers, senior centers, and children's daycare centers that serve hungry New Yorkers in all five boroughs. We are honored to work in tandem to help those in need throughout our city. On the night of the show we will accept dried food, food in boxes, cans, and bottles. Patrons can find collection areas as they first enter the lobby.