Each year, Town Hall presents a series of performances - sponsored by Con Edison - in celebration of Black History for public school children. Every school district in the five boroughs is invited to attend, and seats are filled on a first- come, first-served basis. The Black History Celebration consists of daytime performances, offered free of charge to public school classes in grades three through eight, and their teachers.
Following the concert we hold a Black History Month Poster and Essay Contest for children who attended the performances. The contest encourages children to think critically about the performance, as well as express themselves through words and pictures.
Over the past 20 years, Con Edison and the Town Hall guests have included The Young Hoofers, The Persuasions, percussionist Jeff Haynes, Toshi Reagon, Jawole Willa Jo Zollar and the Urban Bush Women, Ishangi Family African Dancers, Women of the Calabash, and many more.
If you are an educator for students in grades 3-8 and would like your students to be involved in our Black History Month program, please contact Lauren Noble for more information: 212-997-1003 ext. 23.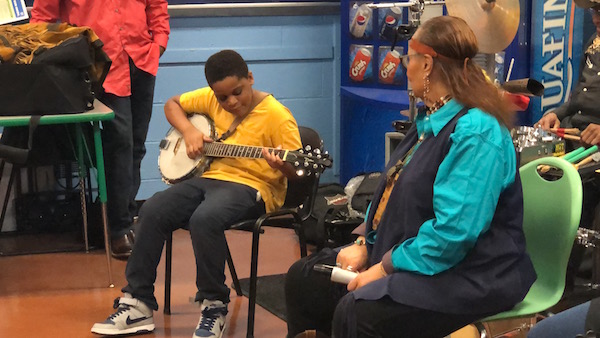 2019: THE TOWN HALL'S 22ND ANNUAL
BLACK HISTORY MONTH CELEBRATION
SPONSORED BY CON EDISON
This year's Black History Month Celebration featured one of America's last black string bands, the Ebony Hillbillies, who've spent years delighting groups of all ages with unique performances that educate the audience on nearly forgotten musical legacies. Over three days, the event comprised four exciting live shows with nearly 4,500 guests in attendance from 41 New York City schools and two interactive musical workshops, where kids were taught about about how music, culture, and history intersect, while listening to and playing various instruments.
2019 BLACK HISTORY MONTH POSTER/ESSAY WINNERS
2018: THE TOWN HALL'S 2ist ANNUAL
BLACK HISTORY MONTH CELEBRATION
SPONSORED BY CON EDISON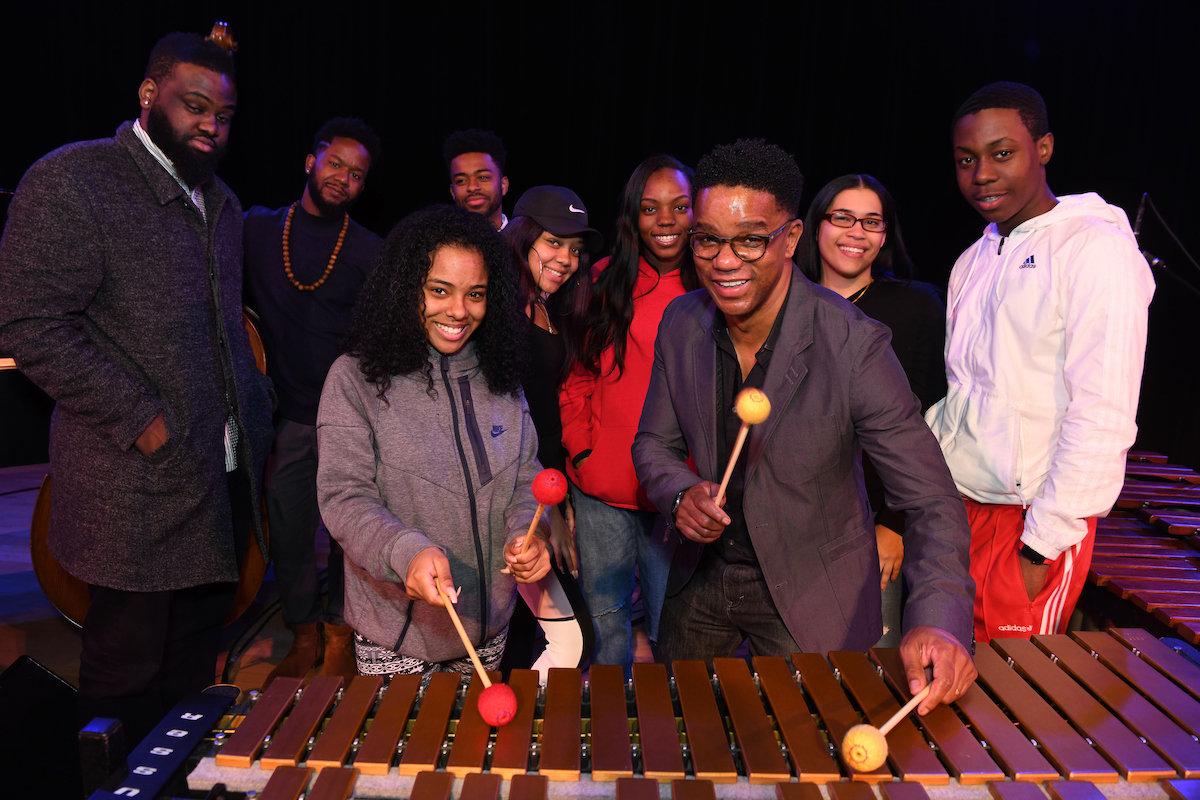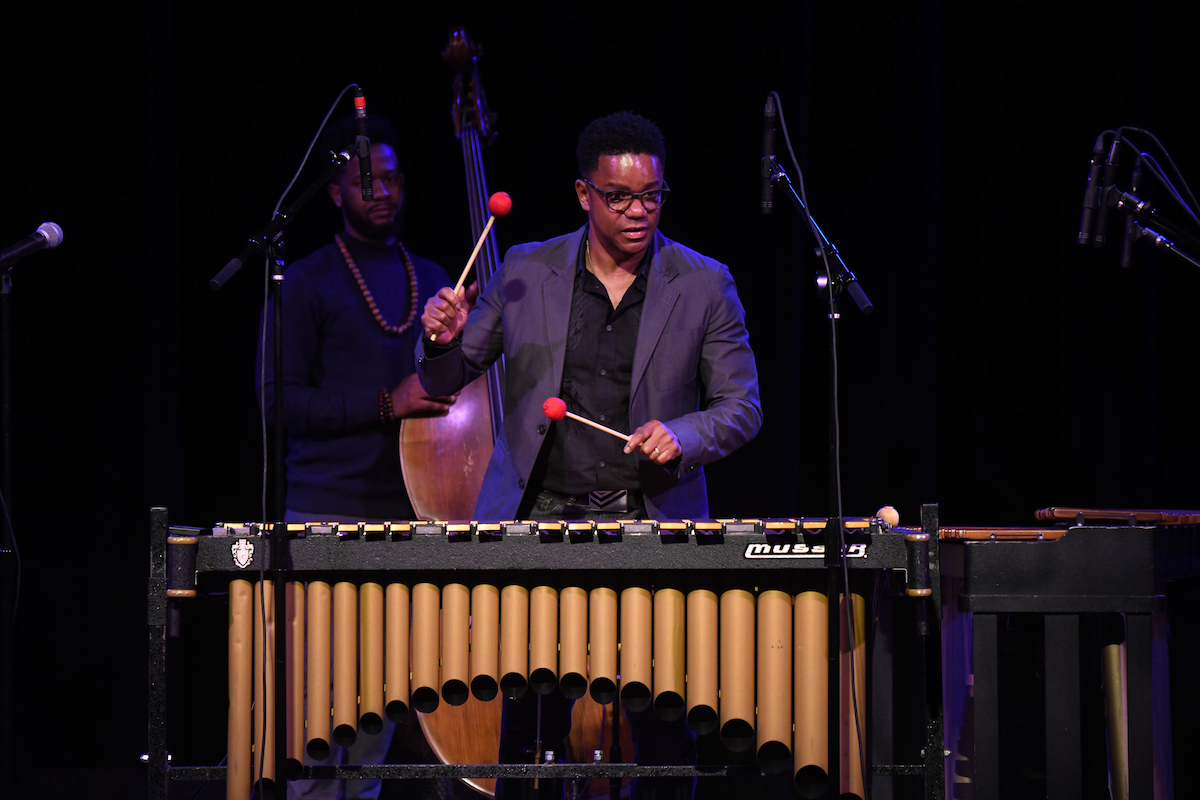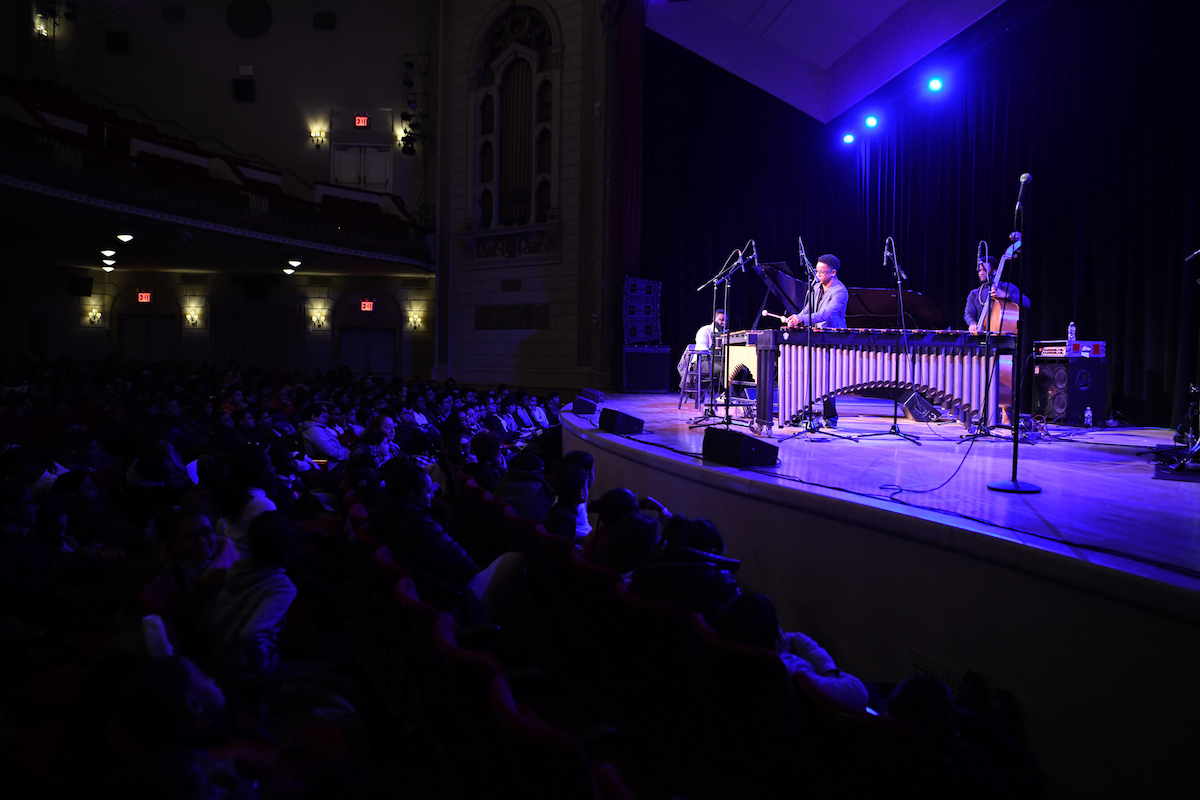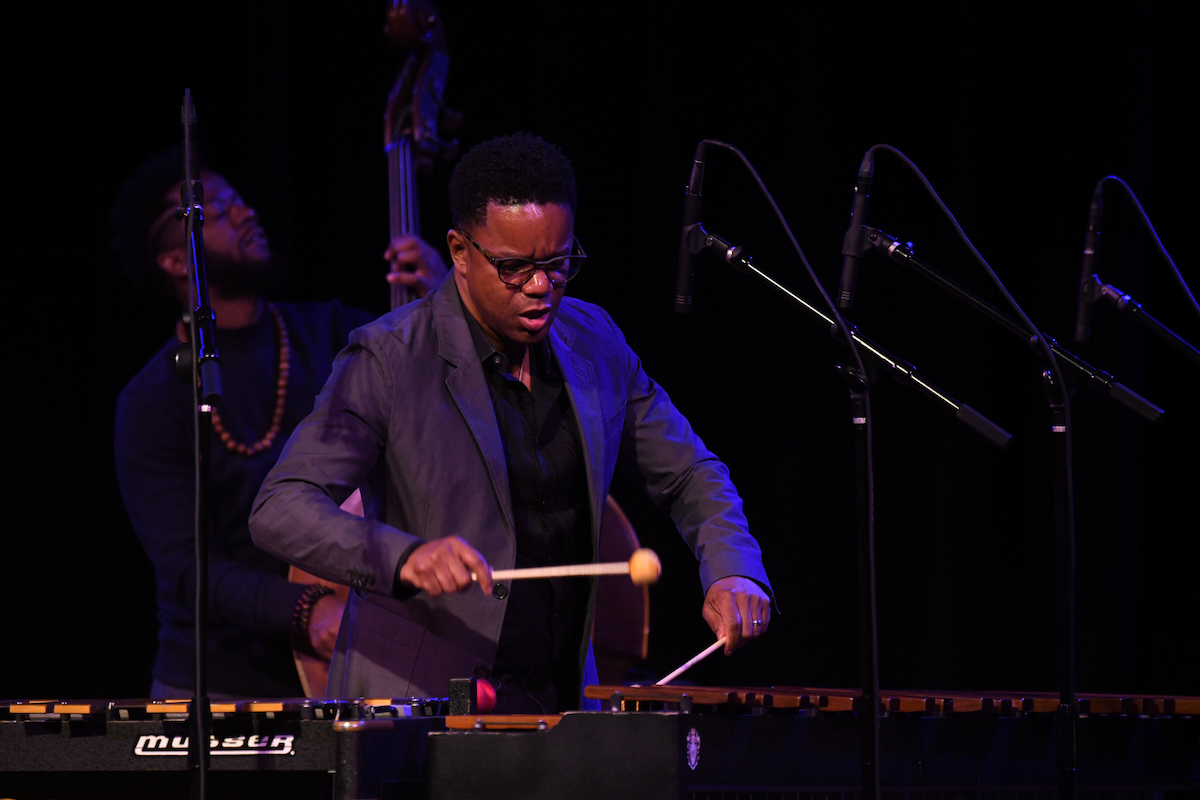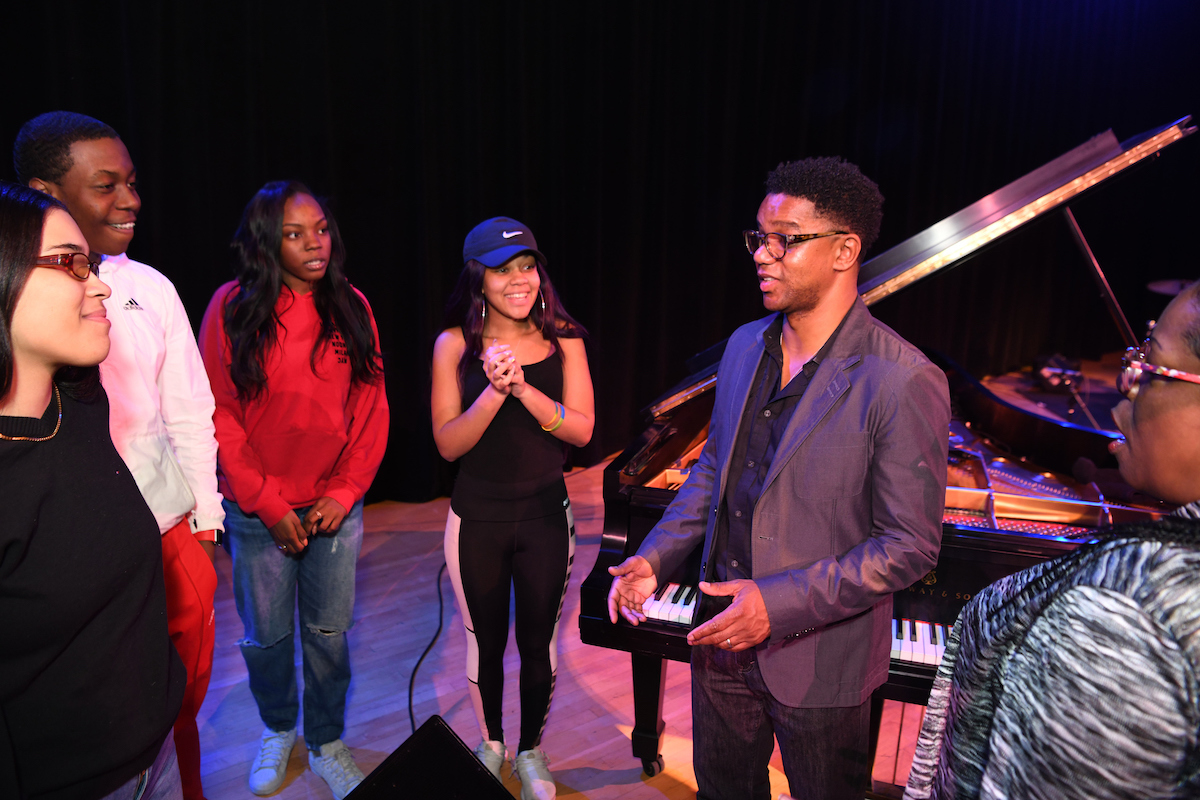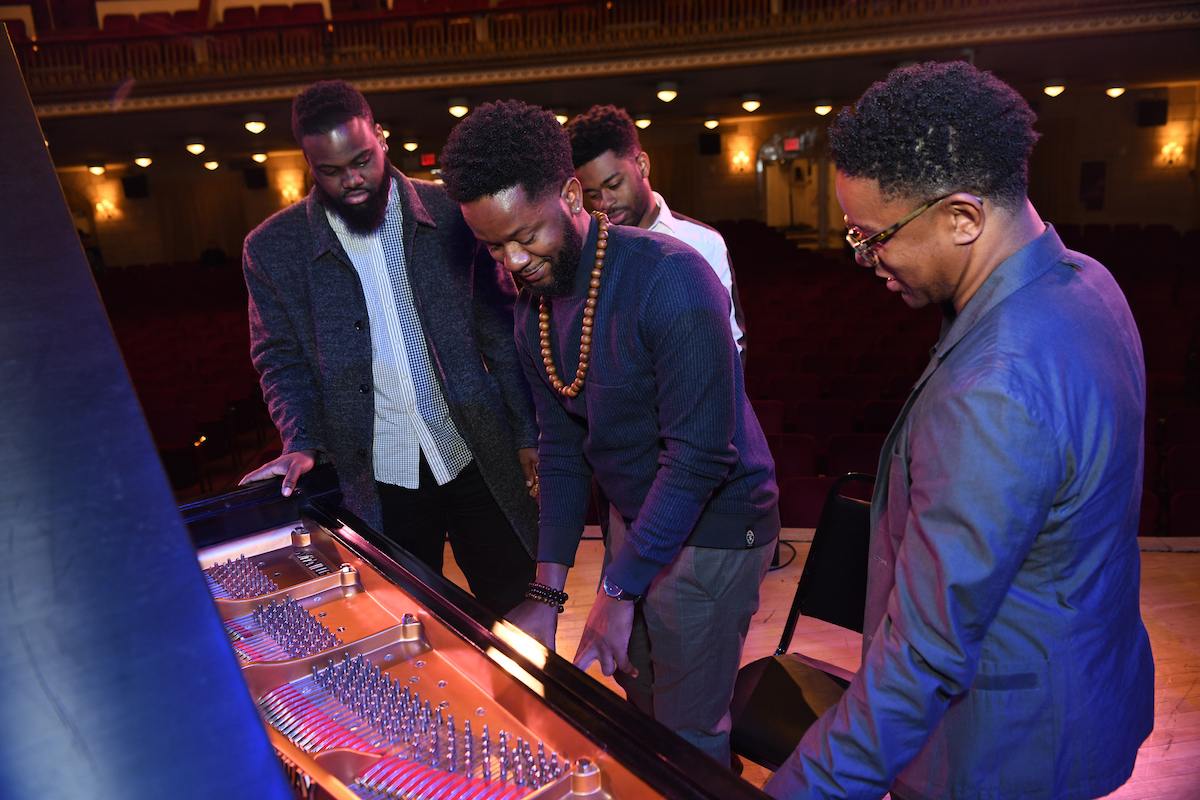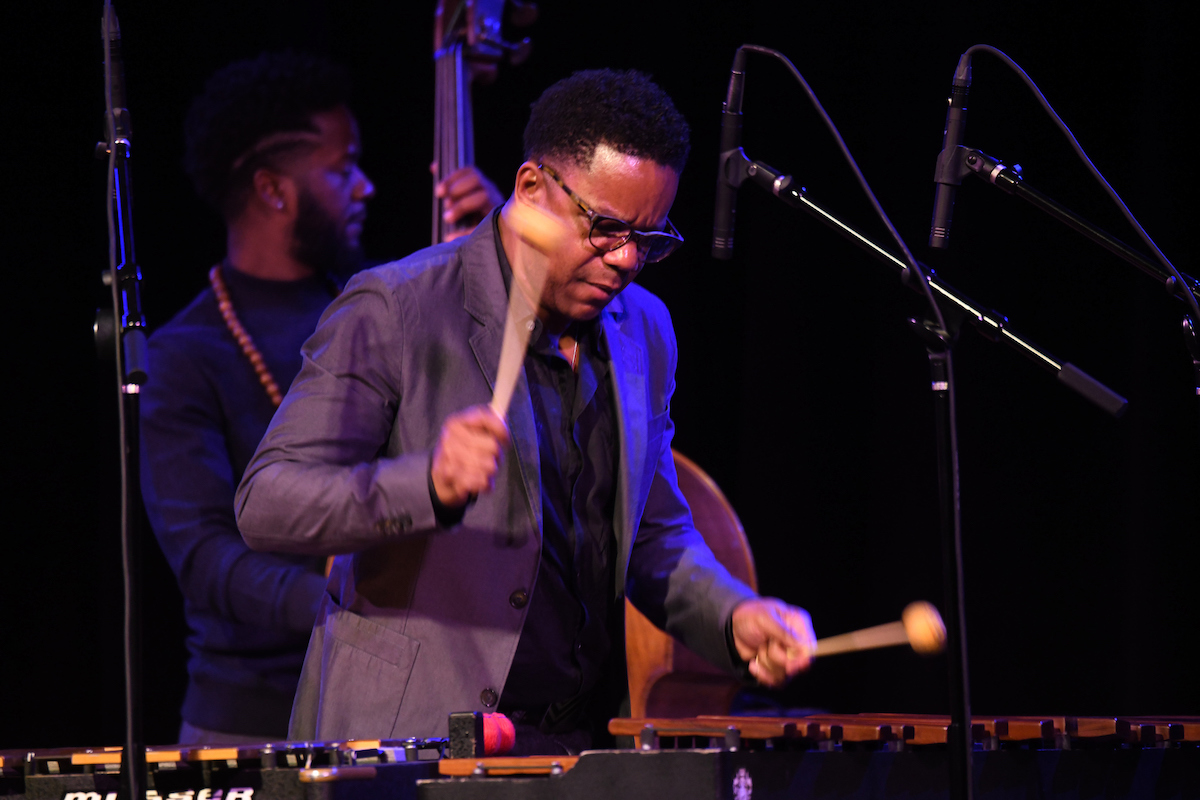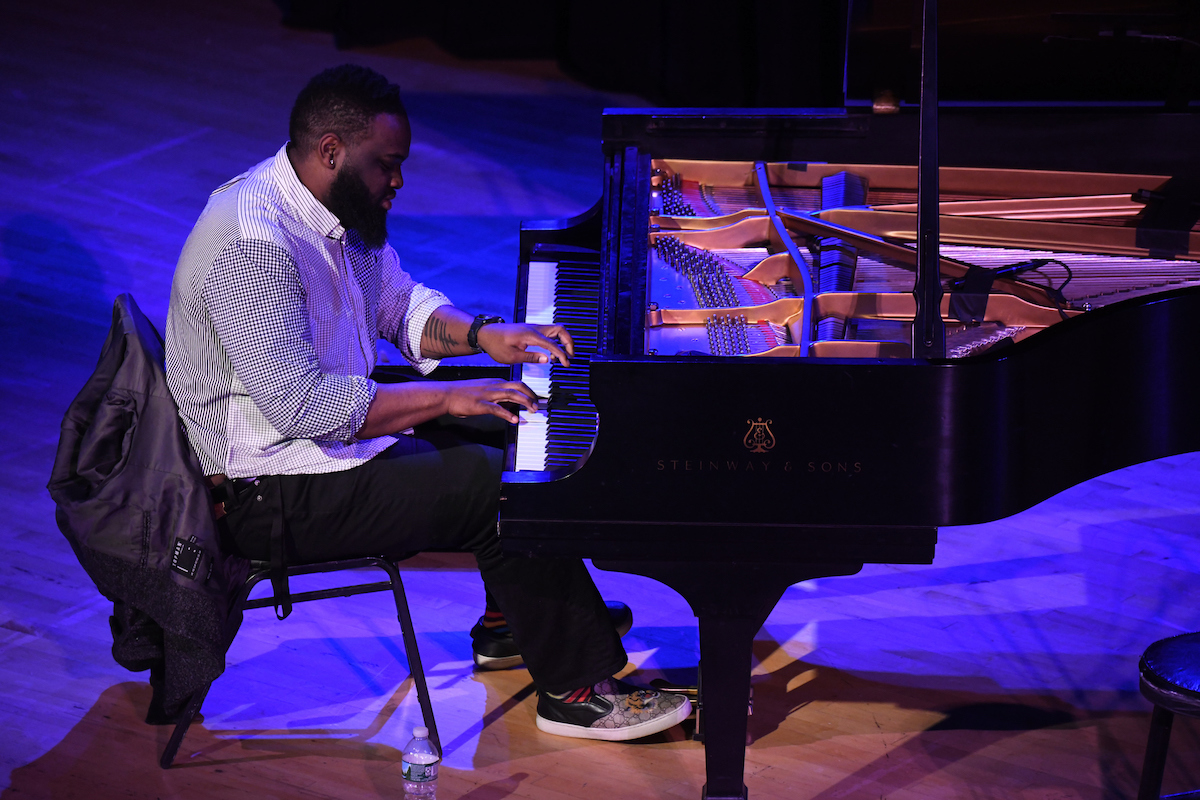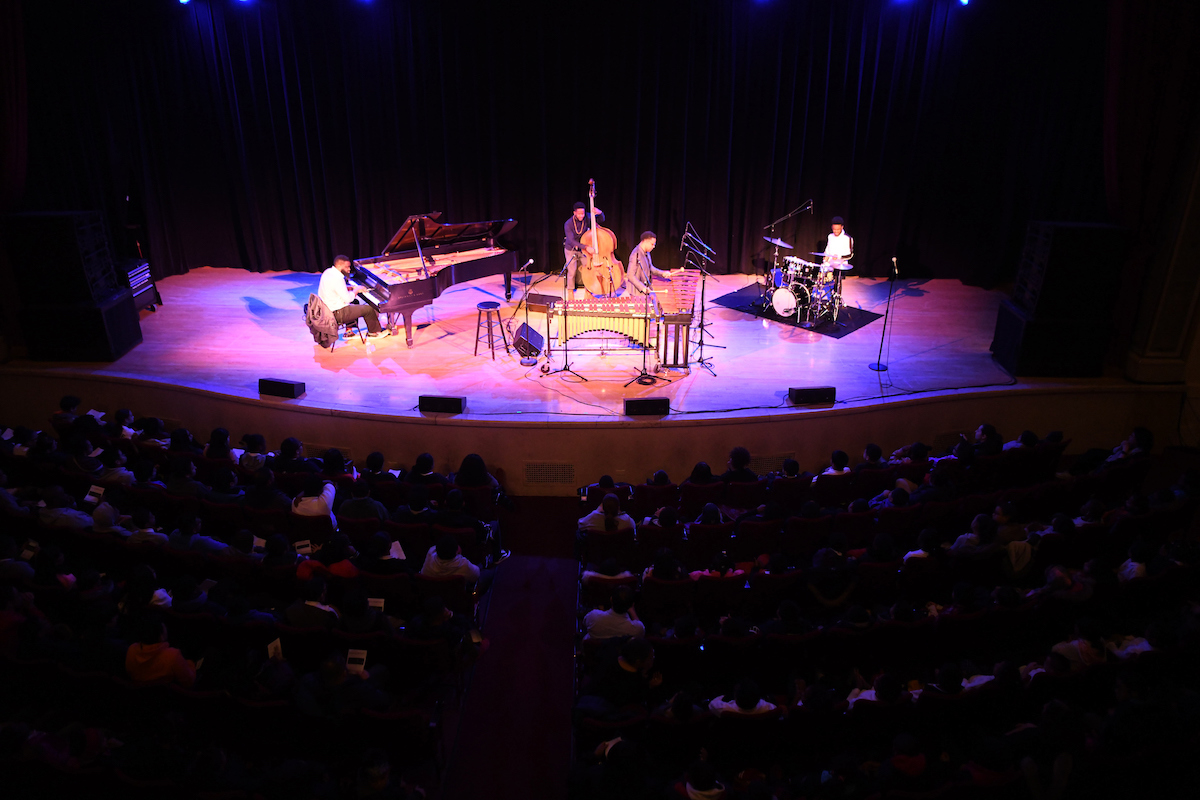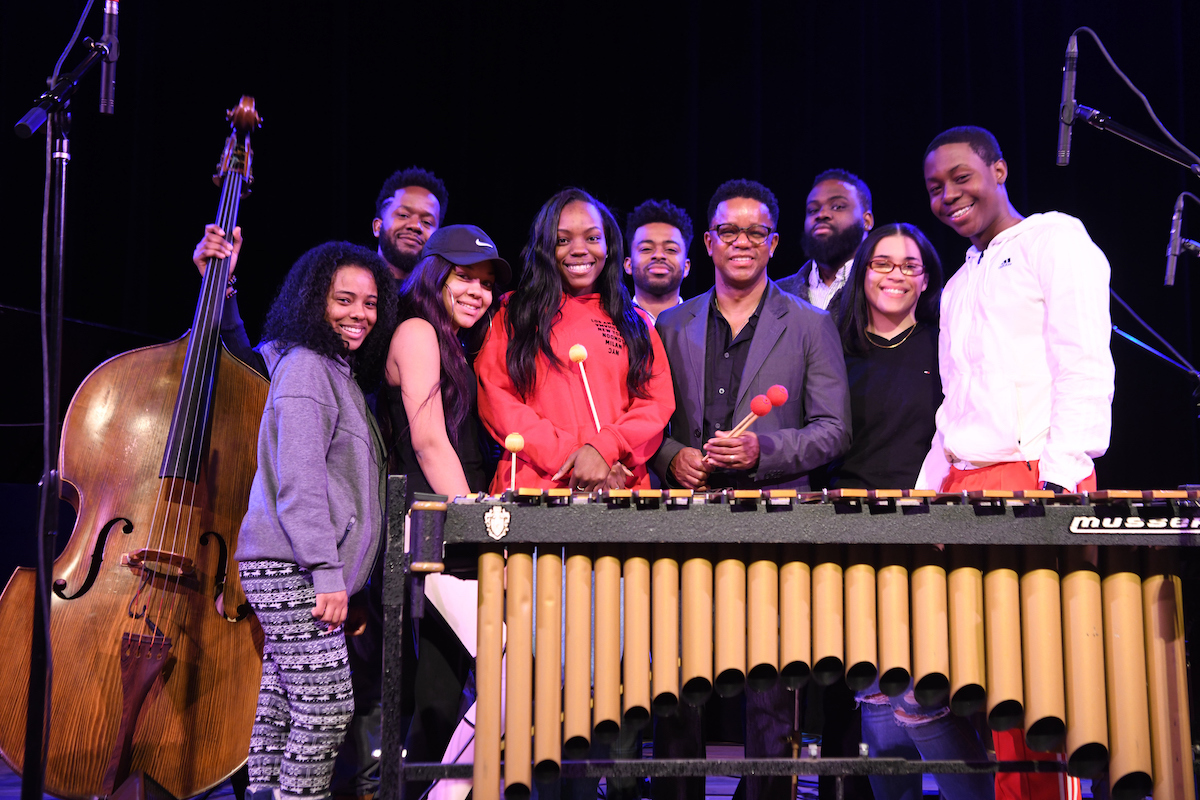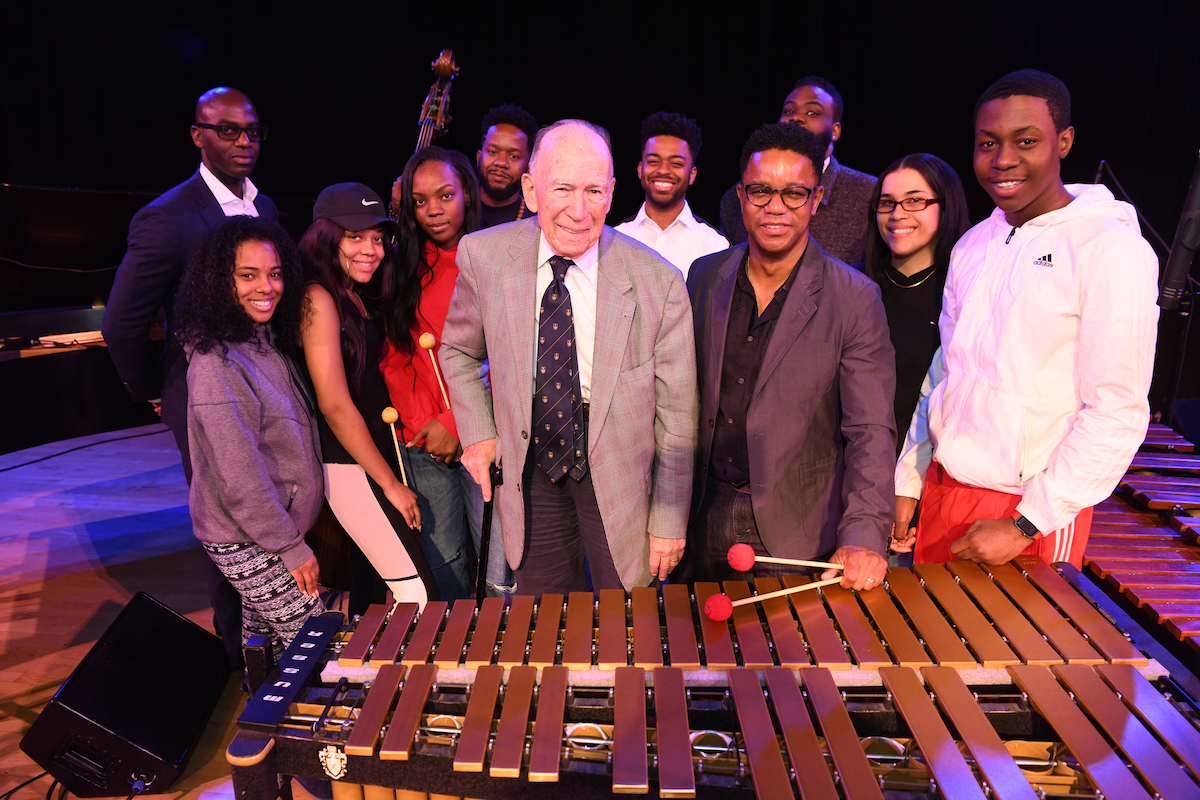 Over the two-day, 4 performance run, Stefon Harris gave the children very comprehensive lessons on the wonders and workings of the vibraphone, dynamics of jazz collaboration and paid homage to the pioneers of the instrument
2018 BLACK HISTORY MONTH POSTER/ESSAY WINNERS
Katheryne Paredes - 4th grade - PS 49 Bronx
Teacher: Ms. Goldfine
Fatima Fofan - 5th grade - PS 197 Manhattan | The Amazing Vibraphone!
Teacher: Ms. Degraffenreid
2017: THE TOWN HALL'S 20TH ANNUAL BLACK HISTORY MONTH CELEBRATION
SPONSORED BY CON EDISON
The Black Iris Project took center stage at Con Edison and The Town Hall's 20th anniversary Black History Month celebration on Monday and Tuesday, February 6 - 7. The programs marked two decades of providing free Broadway performances for public school children. This year's featured artist, award-winning choreographer and The Black Iris founder Jeremy McQueen, premiered "Black Excellence," a unique ballet showcasing five artists from the Harlem Renaissance. Five classically-trained dancers recreated brief histories of poet Langston Hughes, sculptor Augusta Savage, singer Nina Simone, trumpeter Dizzy Gillespie and Dance Theatre of Harlem founder Arthur Mitchell.
"McQueen and his troupe combine the perfect blend of educational and artistic mastery to highlight the history and intricacies of classical ballet for the students," - Lawrence Zucker, Artistic & Executive Director, Town Hall
2017 BLACK HISTORY MONTH POSTER/ESSAY WINNERS
BENNY COLLADO
P.S. 4 DUKE ELLINGTON SCHOOL (MANHATTAN )
Grade 4
The Most Interesting Historical Figure
In my opinion, the most interesting historical figure is Augusta Savage. It amazes me how famous she was as an artist. I enjoy art too, so I have chosen Augusta Savage as my favorite historical figure.
Augusta Savage was a black woman who was also an artist. She was an inspiration to all black people. However this was a time where African Americans were mistreated by white people. This meant that when she applied for art schools, they didn't really accept her. Eventually, she found a school that could accept her. She was very good at sculpting. This was not the only problem she had though. Her father never approved of these activities. Augusta Savage's father did everything he could to stop his daughter. This wasn't a threat to Augusta Savage. She was a very brave and artistic historical figure. I love art just like she did. I liked a lot of other historical figures too, but Augusta Savage was my favorite. There were other great things about her in my essay, but that doesn't mean I don't love all the things she did. Augusta Savage has greater moments. Art is her favorite things, which is why I love her. August Savage was also very creative. I think Augusta was very inspirational for all Native Americans and black people. I even think Augusta Savage inspires me too. Augusta Savage was one of the most interesting historical figures to me.
ISABELLA RODRIGUEZ
P.S. 4 DUKE ELLINGTON (MANHATTAN)
Black History Month - Nina Simone
The person who interests me the most is Nina Simone because she has a nice voice and very great history. Nina Simone sang a mix of jazz, blues and folk music in the 1950's and 60's. She was also a civil rights activist. She was born on February 21, 1933. Her real name is Eunice Kathleen Wayman. When she was three, she started to play the piano.
Later in the years, Nina was recognized as the first major African-American concert pianist. After finishing high school, Nina used her fund to go to Juilliard School of Music to train. Nina taught and worked as an accompanist for other performers while at Juilliard. However, Nina eventually had to leave school because she ran out of funds. Then Nina moved to Philadelphia. She lived with her family in order to save money and be able to go to affordable music program.
However, she was rejected from the Curtis Institute of music in Philadelphia. Nina later claimed the school did not accept her because she was African-American.
Turning away from classical music, she started playing American standards, jazz, blues in clubs in Atlantic City in the 1950's. Before long, she started singing along with her music at the behest of a owner bar. Then, Nina took the stage name, "Nina Simone". "Nina" came from a Spanish word "niña", it's also a name her boyfriend called her. "Simone" was inspired by a French actress that was named "Simone Signoret". Nina eventually won over famous writers like Langston Hughes, Lorraine Hansberry and James Baldwin.
Nina began recording her music in the late 1950's under the Bethlehem label, releasing the first full album in 1957. Under different labels, Nina released tons of albums from the late 50's, throughout the 60's and early 70's like The Amazing Nina Simone (1959, Nina Simone Sings Ellington (1962), Wild is the Wind (1966) and Silk is Soul (1967). She also made cover songs of popular music.
In many ways, Nina's music defied standard definitions. Her classical training showed through, no matter what genre of song she played, she drew a well of sources that included gospel, pop and folk. She was usually called the "High Priestess of Soul", but she hated the nickname. She also hated the label "Jazz Singer" because she sang more folk and blues than jazz.
By the mid 1960's, Nina was known as the voice of the Civil Rights Movement. For a response to the 1963 Medgar Evers assassination, she wrote "Mississippi Godelam". It was also for the Birmingham church bombing that killed four young African-American female figures. Nina also made "Young, Gifted and Black", borrowing the title of a play by Hansberry, which became a popular anthem, after the assassination of Reverend Martin Luther King Jr.
On April 21, 2003, when Nina was 70, she died battling breast cancer. When she may be gone, Nina left lasting impression on the world of music, art and activism. She sang to share her truth and work which still resonates with great power and emotion. Nina had inspired a lot of performers including Aretha Franklin, Lauryn Nyro, Joni Mitchell, Lauryn Hill and Meshell Nelegeocello. Her distinctive deep voice continues to be a popular choice for television and film soundtracks.
Nina Simone was a very famous person back then and she had a great voice and history. This is why I picked Nina Simone as my choice for which historic figure interests me the most.
KAI COLLADO
P.S. 84
"Now, it is true that the nature of society is to create, among its citizens, an illusion of safety; but it is also absolutely true that the safety is always necessarily an illusion. Artists are here to disturb the peace." - James Baldwin
Augusta Savage is an artist from the Harlem Renaissance. Her work fascinates me in many ways and for many reasons. She begins sculpting as a child, using clay to make animals and other small figures. In the early 1920s, Savage moves to New York City to study art at Cooper Union. When she then applies for a summer program in France, she is not accepted simply because she is African American. This rejection changes her life.
Augusta Savage does not accept being discriminated against. She notifies local newspapers of what has happened to her. Since her art was amazing and she was excelling at Cooper Union, she feels she deserves to get into art program France. The committee for the program does not change their minds. However, Herman MacNeil (a member of the committee regrets their decision and invites Savage to make art in his studio in Long Island. This opportunity helps make it possible for Augusta Savage to become known as a portrait sculptor during the Harlem Renaissance.
Part of what's so amazing about Savage is the way she struggled for equality while struggling to create her art. Even after she became somewhat well known she remained humble. In fact, she once said, "I have created nothing really beautiful, really lasting, but if I can inspire one of these youngsters to develop the talent I know they possess, then my monument will be in their work." In the future I hope to make art that is part of the struggle for equal rights for all. If I become well known, I will always remember to stay humble the way that Augusta Savage did.